https://www.westsidecollision.com/car-scratch-repair-houston/Welcome to our premier Houston car paint repair Located in Houston, TX, our reputable body shop specializes in providing top-notch auto body and paint services. From collision repair and scratch removal to paint restoration, we offer a wide range of services to cater to all your Houston car paint repair needs. Our skilled technicians, state-of-the-art facility, and commitment to excellence ensure that your vehicle receives the highest quality of care.
Houston car paint repair services
Our Houston paint repair center offers a wide range of services to address various paint-related issues and imperfections. Whether your vehicle has suffered from scratches, dents, fading, or other paint damage, our skilled technicians are here to provide top-notch solutions. Some of the services we offer include:
Scratch Repair: We meticulously repair and blend the paint to eliminate scratches, ensuring a seamless finish.
Dent Repair: Our technicians are skilled in repairing both minor and major dents, restoring the smoothness and appearance of your vehicle's body.
Paint Chip Repair: We fix paint chips caused by road debris, stones, or other external factors, preventing further damage and maintaining the aesthetic appeal of your vehicle.
Paint Fading Restoration: If your vehicle's paint has faded due to sun exposure or other factors, we can restore its vibrancy and original shine.
Color Matching: Our computerized color matching technology ensures precise color matching, ensuring that any repaired areas seamlessly blend with the rest of your vehicle's paintwork.
Bumper Repair: We specialize in repairing and repainting damaged bumpers, restoring their appearance and structural integrity.
Paintless Dent Removal: Using specialized techniques, we can remove dents without the need for traditional Houston car paint repair, saving time and money.
Headlight Restoration: We offer services to restore cloudy, yellowed, or hazy headlights, improving visibility and enhancing the overall appearance of your vehicle.
Paint Finishing: Our expert technicians ensure a flawless paint finish, providing a smooth and polished appearance to your vehicle.
Custom Paintwork: If you're looking to personalize your vehicle with a custom paint job, we offer professional custom painting services to bring your vision to life.
At our Houston car paint repair center, we prioritize the highest quality of workmanship, using top-of-the-line materials and advanced techniques to achieve exceptional results.
Whether you need a minor touch-up or extensive Houston car paint repair, our team is dedicated to restoring the beauty and integrity of your vehicle's paintwork.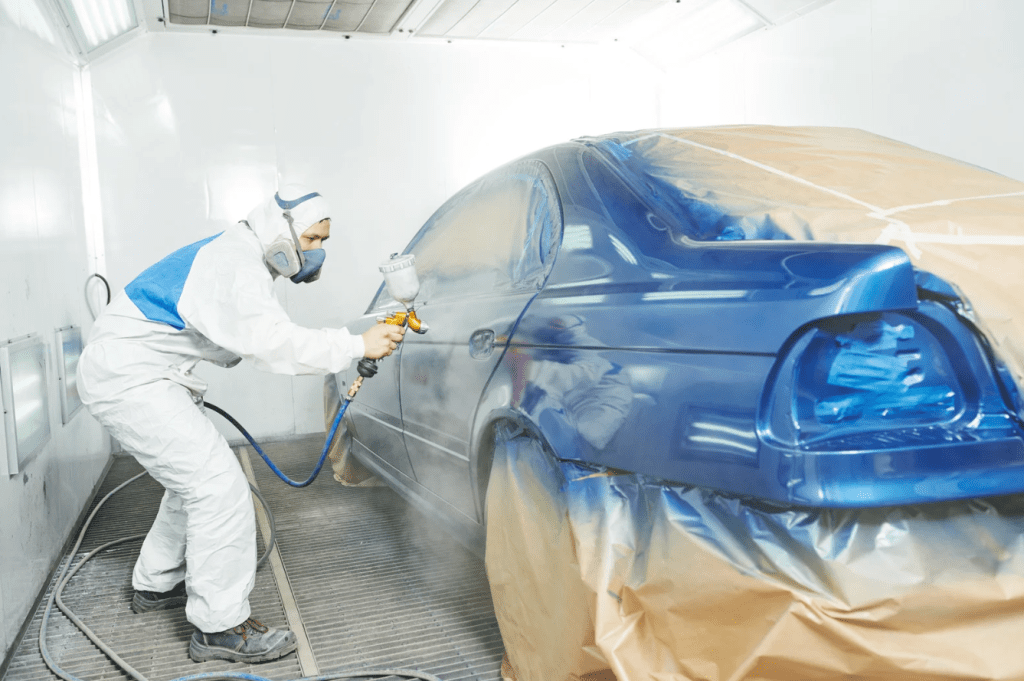 Car paint shops near me Houston TX
Looking for a reliable car paint shop in Houston, TX? Look no further! Our auto body and paint shop offers top-quality repair and paint services. With a team of skilled technicians, we specialize in collision repair, scratch removal, dent repair, and paint restoration.
We use advanced techniques and equipment to ensure a flawless finish that will make your car look like new. Whether you need a minor touch-up or a complete paint job, we are here to meet your needs with professionalism and expertise.
How much does it cost for Houston car paint repair?